October 09, 2012
Respond now to Lafarge revised plans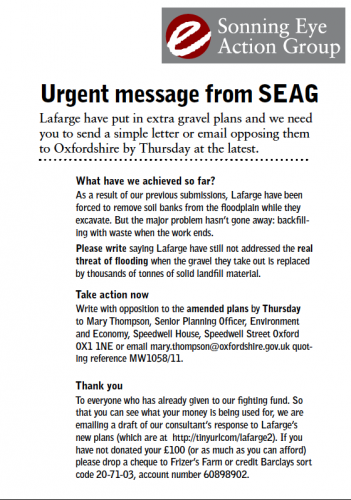 Lafarge have put in new plans largely in response to SEAG's comments. They answer some of our concerns about their not complying with Government guidance for the storage of excavated soil in landfill, but they ignore our much bigger concerns about the extra risk of flooding caused by many years of landfill with inert builder's waste which will be placed in claylined pits left by gravel extraction.
If you care about this and other imapcts from decaders more gravel extraction in an area which has already borne more than its fair share of the burden, please write by Thursday October 11 with your opposition to the amended Lafrage plans to Mary Thompson, Senior Planning Officer, Environment and Economy, Speedwell House, Speedwell Street, Oxford OX1 1NE or email mary.thompson@oxfordshire.gov.uk quoting reference MW1058/11
The new plans in full can be found here.